What. A. Year.
Coming out of the last 3 years of the pandemic where we turned our inventory of t-shirts into face masks, to now opening up a brand new 2nd facility. It can be easy to get caught up looking toward the future that you forget to take a moment to appreciate all that has been accomplished and overcome. We've made an effort to push out new products weekly, but now we want to take a moment to push out some gratitude to our awesome team and clients that made this milestone year possible.
The Vision
Every year, we revisit our company vision and mission. This helps keep us on track and make sure that everything we are building is aligned with our end goal.
When creating our goals, we always keep two people in mind: the fan and the client. The fans are who keeps this industry alive, the ones who wait in lines at the merch booths, and the ones who need to be excited when they put on their brand new band tee.
Our clients are the ones that need to impress the fans, so it's our job to help them deliver quality and efficiency every time. Every new printing press, every technology build, every product we release is all with our client in mind. What do they need to succeed and how can we help alleviate pain points?
These things combined fueled our idea to rebrand as a "platform" on our quest to build the largest, most efficient merchandise company. We are no longer a screen printing shop, but tech platform made for the music & entertainment industry to produce merchandise at scale.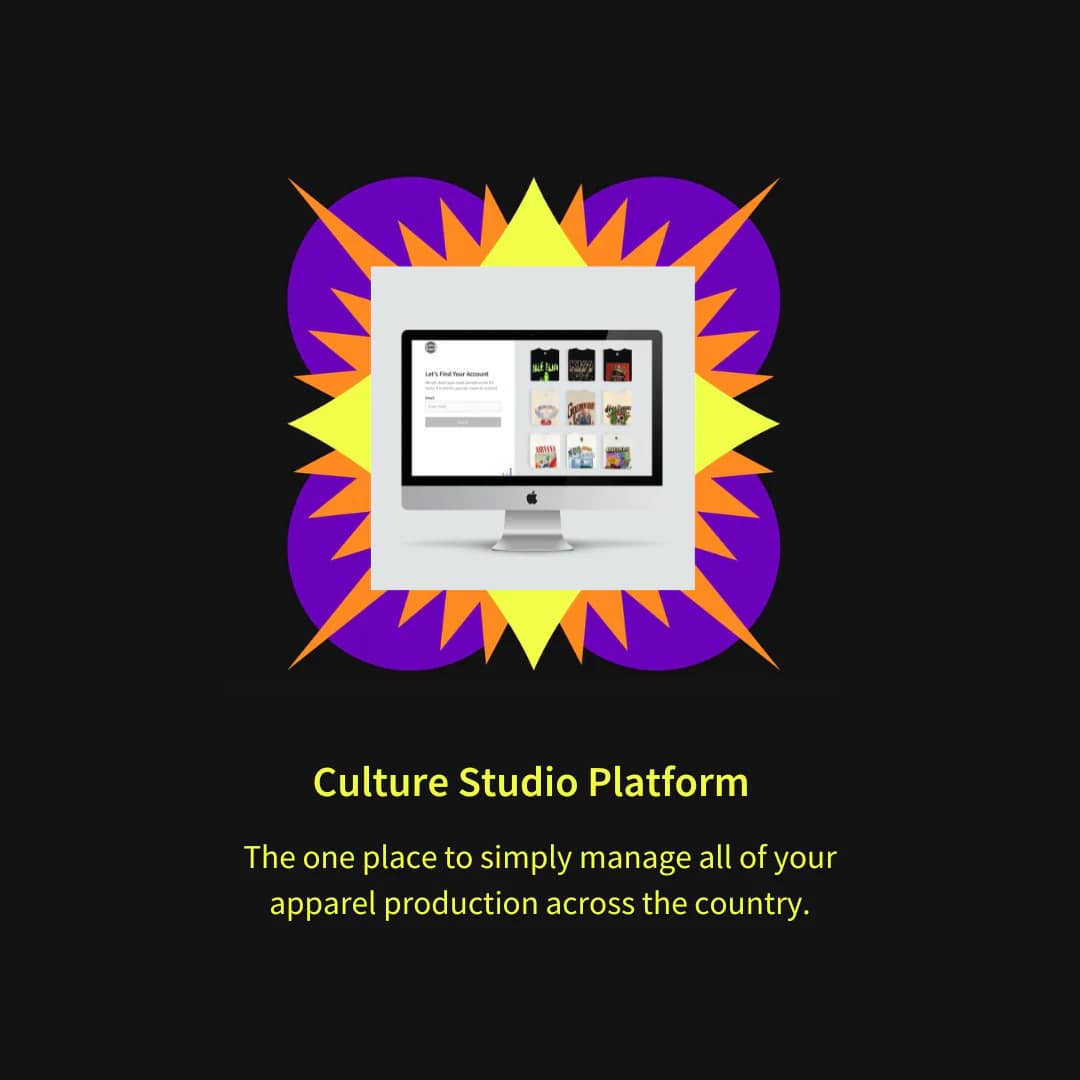 The Platform
This year we pushed to elevate our proprietary technology in order to bring value to our clients and create a more seamless ordering process. We introduced The Culture Studio Platform: the one place to simply manage all of your apparel production across the country.
Online Catalog
We retired our Online Design Tool and leveled up with a catalog of garments aggregated from distributors across the country, all with live global inventory. This year we placed a lot of focus into our product development, monitoring trends in the industry so we can serve up weekly product launches for our clients to stay ahead of the curve.
Dashboard Analytics
We wanted the Platform to serve as a convenient place for users to have an overhead view of all their orders, instead of having to sort through e-mail threads. We released a new dashboard design this year, where users are greeted with a personalized analytics and summary of all current orders.
(Sign in to view your personalized dashboard)
Interactive Shipping Map
One of our most exciting features we released this year is our shipping map, allowing clients to see exactly where their order is at any time. Predict accurate arrival dates & stay a few steps ahead if there's any delays.
Auto Scheduling
Now that we have 2 facilities, it was important to have a system in place that manages the production schedule. The Platform runs sophisticated algorithms for Auto Scheduling by analyzing print position details and any finishing services, then automatically assigns the job to a machine time at either Chicago or Daytona. By drawing from over 135,000 feet of production floor, it ensures every order can get scheduled and go out on time to meet deadlines.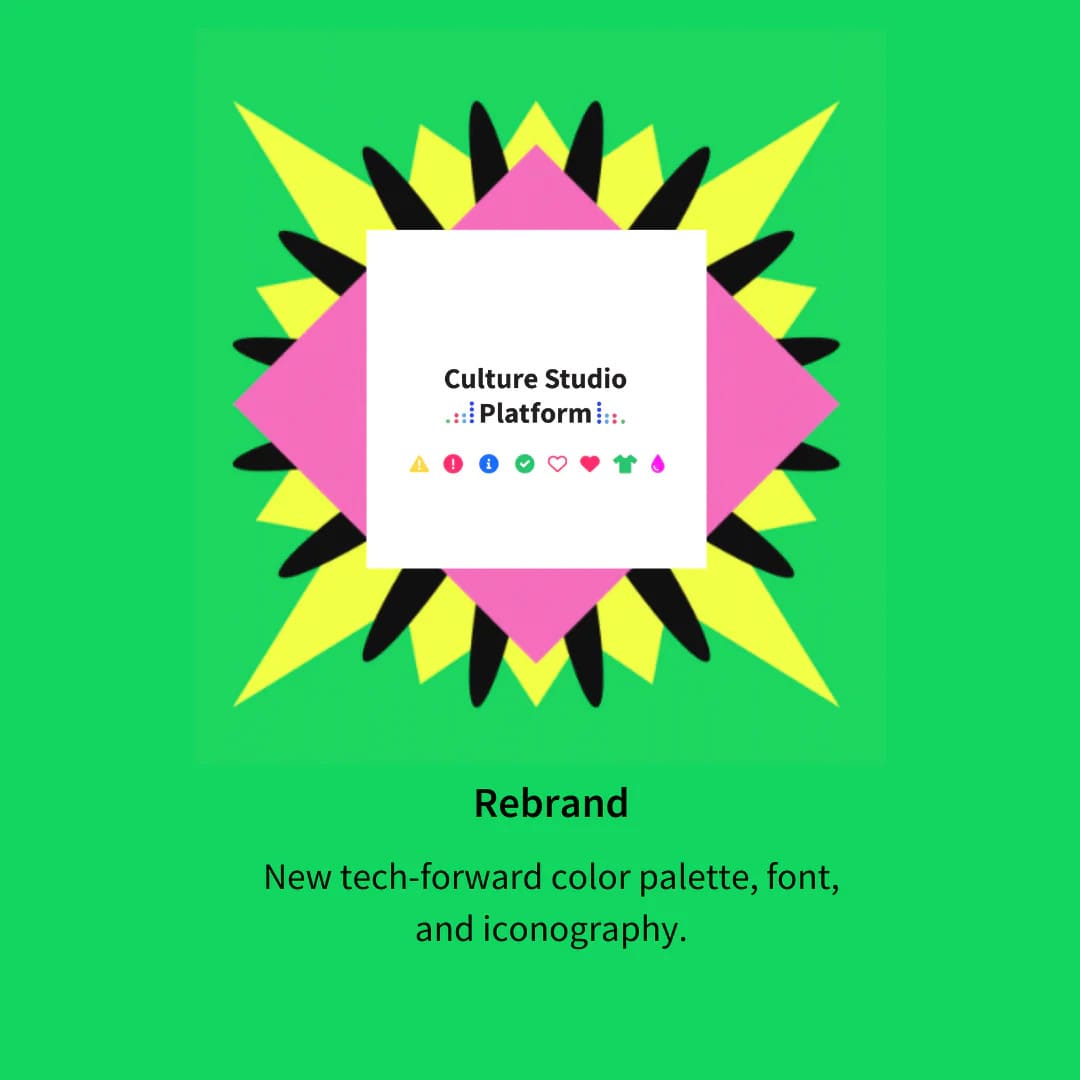 Rebrand
We decided some new branding was in order to match our tech-forward production process. We refreshed our look with a new color palette, font, and iconography to make the Platform feel user-friendly and tie it together with the Culture Studio brand.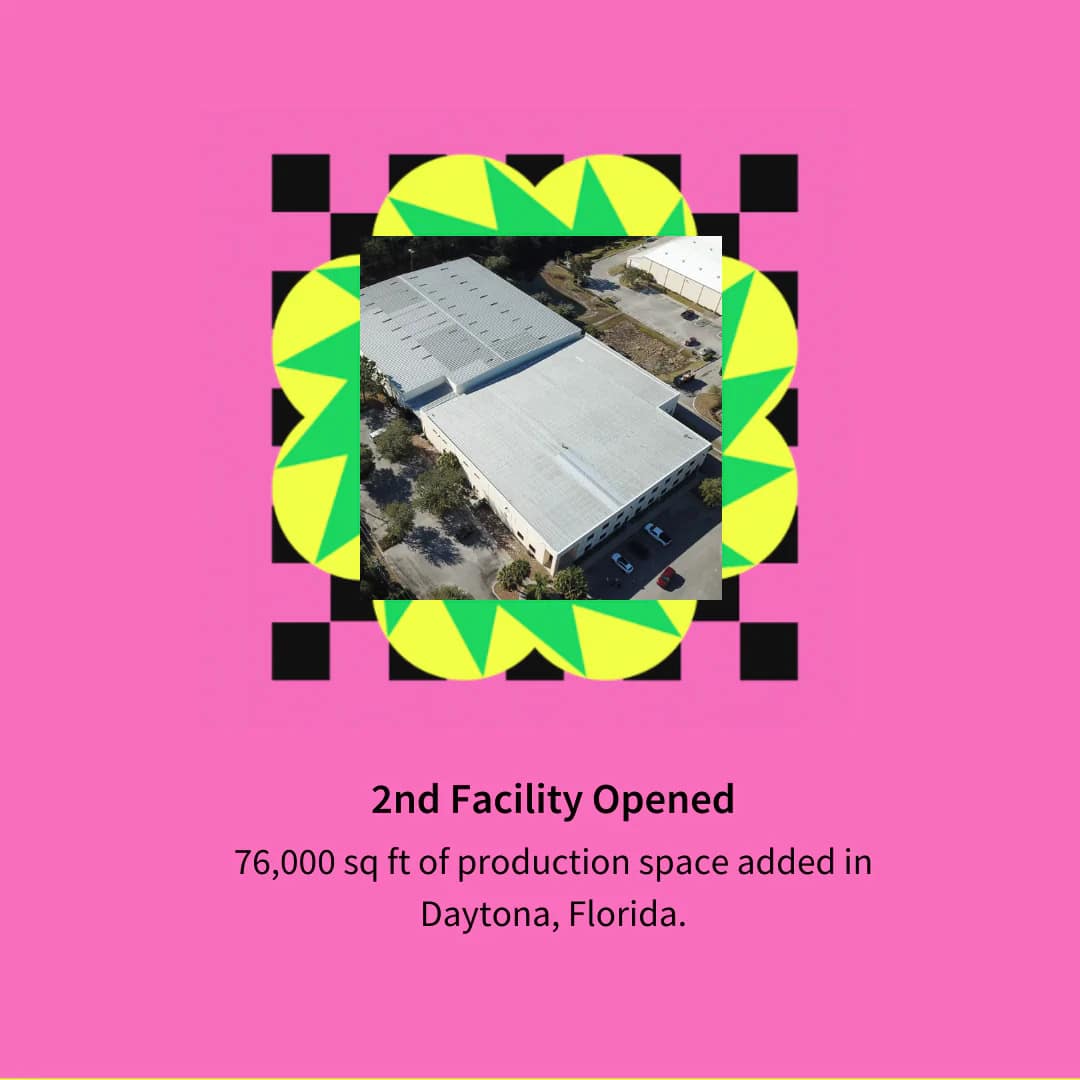 Adding 76k Sq Ft of Production Power
In an industry of quick turns and tight deadlines, capacity and shipping are two major things that can either make or break your merch sales on tour. We strategically wanted to open a second location in the South to be able to offer quick shipping to more destinations across the U.S. Whether your artist has a last minute change in schedule, or a 50 city tour, we want to be the reliable partner you can trust to deliver.
This spring we closed on a new few facility just blocks away from the Daytona Speedway, and we were thrilled to expand our footprint and add to the electric energy of the area. Although it was no easy feat — 2 special order electric services, hundreds of feet of pipe to get gas down the street, installing cameras and internet (just to name a few roadblocks). Despite all the challenges, we made it happen and it's been exciting to watch our Daytona team grow with both production and office staff.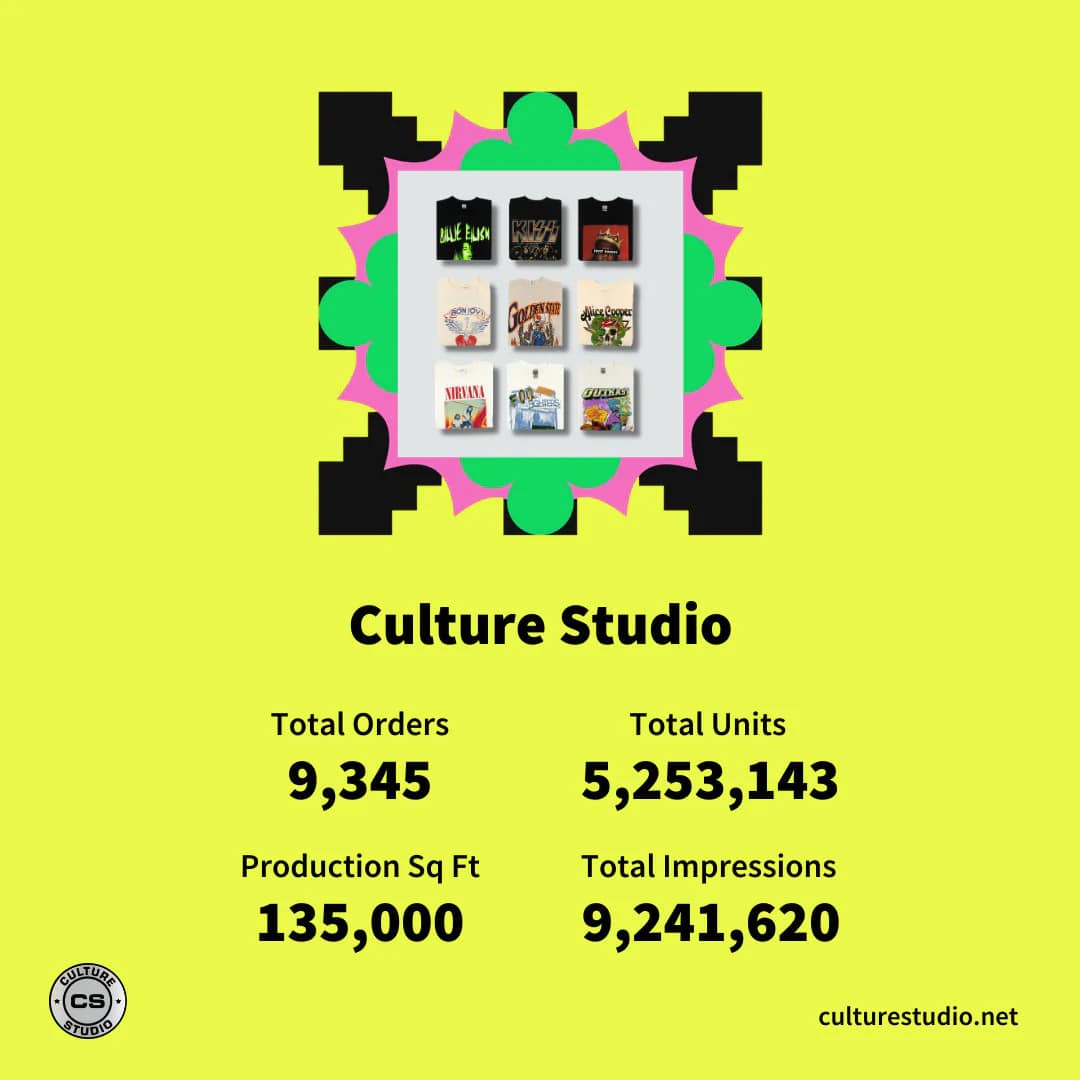 Notable Projects
One of the best parts about working in this industry is getting to be a part of creating merch for artists in your most played Spotify playlists. It's impossible to choose favorites, but some projects we were proud to execute this year include Wrestlemania, The Weeknd, Elton John, Lollapalooza, and Harry Styles.
That's a Wrap!
Thanks to everyone who was a part of the wild ride this year. We are endlessly grateful for all we have achieved and even more excited for what is yet to come.