In this era of digital streaming platforms, most music artists rely on touring and live performances as their source of income. As COVID-19 spreads, so does the financial strain on the music industry. Streaming accounts for 80% of revenue, but the low royalty rates make it impossible for artists to earn a living wage off of this solely.
Dani Deahl, Chicago DJ/Producer, took to Twitter to raise awareness of the importance of supporting music artists through other means, like merch.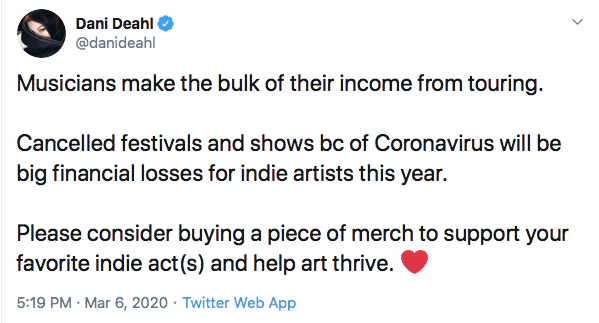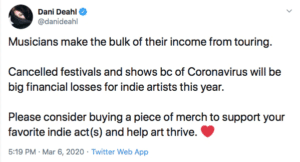 If you were planning on attending a show or festival that has been cancelled, use that money to spend on merch or paying for downloads/physical albums.  There's still plenty of ways to show support through this time, without having to leave your home.
MERCH
Buy merch to support your favorite artists. Grabbing a t-shirt or mug from their online store can help make a difference when tours and local shows are cancelled.
SHARE, SHARE, SHARE!
When your favorite artists release new music or merch, show some love and help spread the word. A simple retweet can go a long way.
PURCHASE ALBUMS
Purchase albums or pay for downloads instead of digital streaming to support your favorite bands and artists. This will give you plenty of new music to keep you entertained during your stir-crazy quarantine.
WHAT HAPPENS FROM HERE?
Many artists have started live streaming to offer connection in a time where many people are isolated and fans left disappointed after cancelled shows. EDM artist, Diplo, has promised to host nightly live streams to entertain his fans. Artists are turning to creative measures to keep their audiences involved, and we will definitely be seeing a shift in how the music industry functions.
Overall, remember that your dollar is important and supporting through merch is crucial at a time of uncertainty in the music industry. If you are an artist or business looking for merch, we offer online ordering (free shipping included) that you can completely customize without leaving your couch. Brand coordinators are ready to help with any questions you may have.