Studies show that 57% of businesses see a significant increase in sales during the 4th quarter of the year. With the pandemic continuing into the winter months, people will be doing their holiday shopping online now more than ever. November and December are jam packed with holidays and e-commerce sales opportunities, so it's important to plan ahead to make sure you are prepared.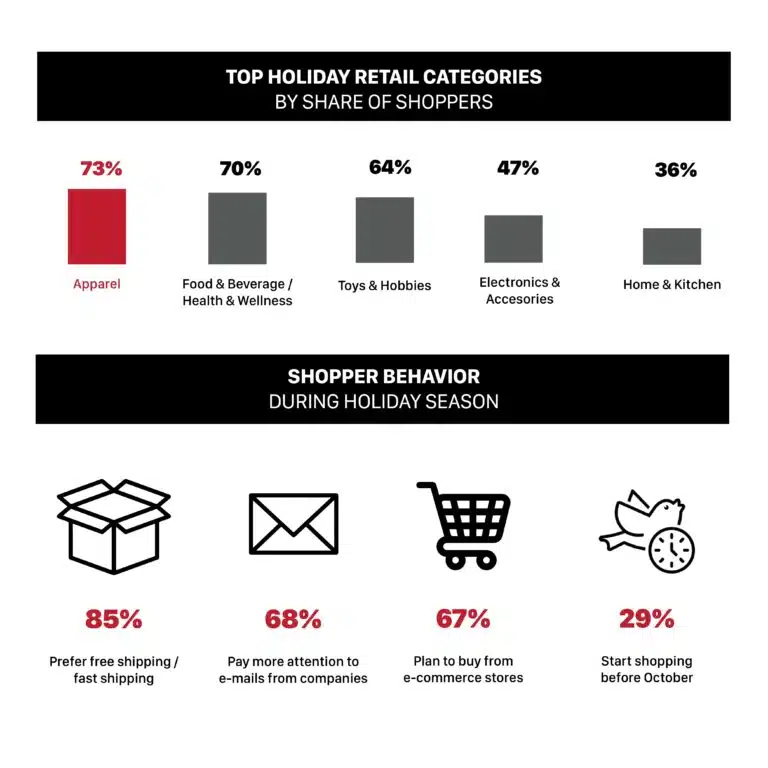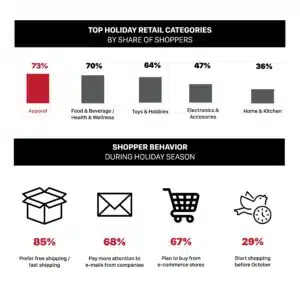 1. PROMOTE ON SOCIAL MEDIA
One of the most important ways of bringing traffic to your online store is through social media marketing. Make sure you are producing consistent content to grab your followers attention, and remind them of any new products or sales you are offering.
Utilizing UGC (User Generated Content) can be a great way to bring in new customers. Use dedicated campaign hashtags for the holidays so customers can tag their posts — that's free content for you to use!
2. LEVERAGE CUSTOMER REVIEWS
Make sure you offer a way for customers to leave reviews of their experience. Start reaching out to customers in the months before the holidays to gather reviews, which you can highlight on social media. The proof of customer satisfaction is crucial for increasing conversions, especially during the holiday season.
3. E-MAIL MARKETING
It can be easy to forget about e-mail marketing when most attention is usually dedicated to managing social media platforms, but it's still just as important! Send e-mail announcements with attention grabbing subject lines, offering a discount or limited time only product. Send exclusive promo codes to loyal customers on your mailing list or remind customers of upcoming holidays like Cyber Monday to leverage more sales.
4. ENABLE MULTIPLE FORMS OF PAYMENT
Accepting multiple forms of payment like Apple Pay or PayPal gives customers an unrestricted shopping experience, and removes a barrier to checkout that could be limiting your sales, especially during  the holiday season.
5. OFFER GIFT CARDS
Many people love giving gift cards to friends and family around the holidays, so offering physical or digital gift cards are a great addition to your shop. Plus, this may introduce a new customer to your store that has not shopped with you before.
6. HAVE AN EFFICIENT SHIPPING PROCESS
Since many people will be shopping for holiday gifts, it's crucial that your shipping process runs smoothly so that your merchandise is in the hands of the customer when they need it. Make sure you set up tracking so that customers are able to see updates on their packages and alerts. You will also want to make sure that there is sufficient stock in all of your products, and there are no delays in packing and shipping out. We've designed our Timed Campaigns for exactly this reason — we pull orders in from your store, produce, package, and ship out individually to each customer so ensure an efficient process from start to finish.
7. SPRUCE UP YOUR PACKAGING
Offer a free sticker or small promotional item with every purchase as a bonus for holiday buyers. Customize festive packaging like poly mailers or paper wraps to make a great impression when customers receive their package. This can also be a great time to add personalized thank you notes to show your appreciation and wish your customers happy holidays — the little things can go a long way! Read more on Adding Value with Product Packaging.
8. OFFER LIMITED EDITION MERCHANDISE
Create special products like custom beanies or mugs that will only be available for the holidays. Fans and customers will be excited to get their hands on exclusive merchandise and it will create a sense of urgency for them to purchase before they sell out.
9. RETURN POLICIES & CUSTOMER SERVICE
Make sure you are prepared to field any problems that may arise and have a return and exchange process in place. If you do not already have a return policy listed on your site, it's a good idea to add it and remind customers at point of purchase. Make it easy for customers to contact you with any questions, and respond back to them in a timely manner.
HOLIDAY E-COMMERCE CALENDAR
Oct 31 – Halloween
Nov 26 – Thanksgiving
Nov 27 – Black Friday
Nov 28 – Small Business Saturday
Nov 30 – Cyber Monday
Dec 14 – Green Monday
Dec 15 – Free shipping day
Dec 18 – Hanukkah
Dec 24 – Christmas Eve
Dec 25 – Christmas
Dec 31- NYE
If you're ready to start preparing your e-commerce store for the holiday season, we're here to help! Start customizing your merchandise with our Online Builder or e-mail us to speak with a human. sales@culturestudio.net