The Timed Campaign is made for speciality item limited edition drops that create a sense of exclusivity among your audience. The beauty of this sale model is that you can incorporate speciality inks and decoration methods that you typically cannot with Print On Demand services like glitter ink, metallic foil, or embroidery. Surprise your fans with a limited edition Halloween t-shirt featuring glow-in-the-dark ink that is only available for 48 hours and watch the sales roll in!
HOW DOES IT WORK?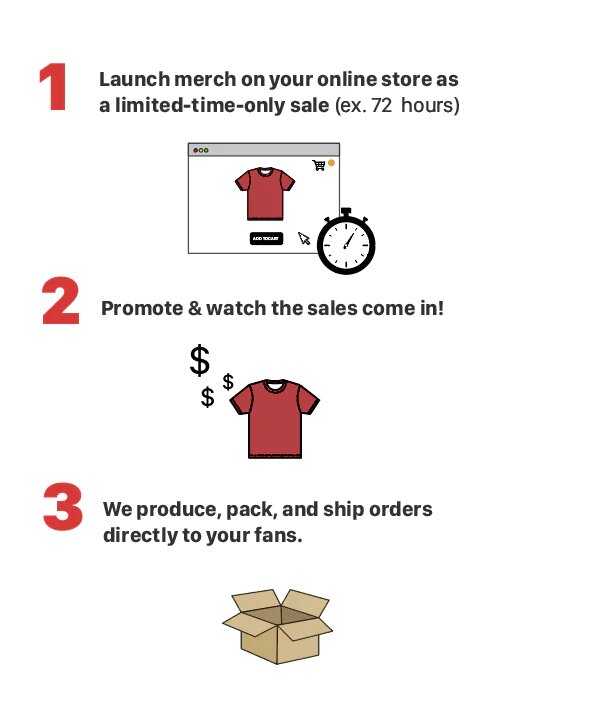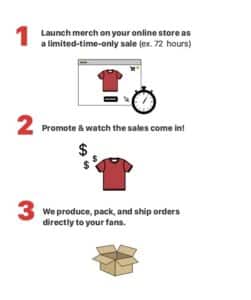 WHY RUN A TIMED CAMPAIGN?
– Create a sense of urgency to purchase with limited time sale window
– Offer one-of-a-kind limited edition or seasonal merchandise
– No inventory investment — launch your product(s), sell for 24-72 hours, close the sale and we only produce and charge you for whatever is ordered. No losing out on unsold merchandise!
– Enjoy full offering of decoration services (screen print, embroidery, woven labels, inside tags, stickers, etc)
WHAT'S THE DIFFERENCE BETWEEN A TIMED CAMPAIGN AND TRADITIONAL PRINT ON DEMAND?
Print On Demand allows you to keep multiple products available on your site 24/7, and orders are produced and shipped out to customers as they come in. Print On Demand is restricted to front and back digital prints.
The Timed Campaign is a pre-sale model in which you launch 1 product with a 24-72 hour sale window, designed for speciality items like seasonal/holiday merchandise or in anticipation of something like an event or album release. Once the sale closes, orders are produced and shipped out to customers within 2-3 weeks. With a Timed Campaign you are not limited to digital prints and can expand your creative vision to the fullest with all decoration options and finishing services.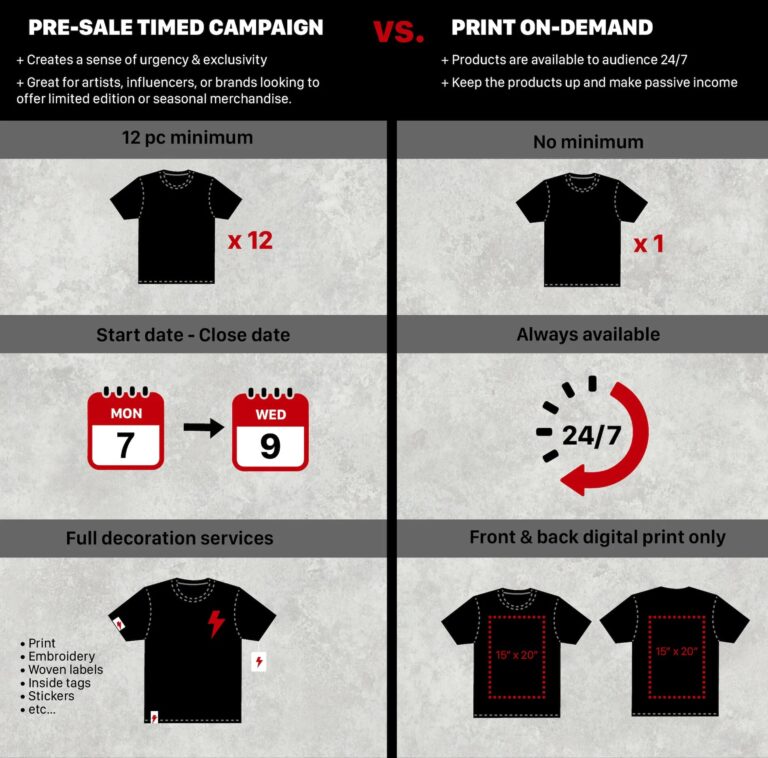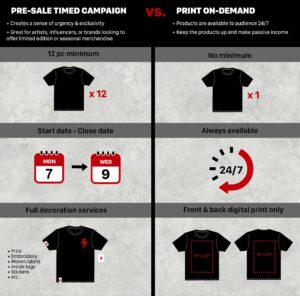 IS A TIMED CAMPAIGN A GOOD FIT FOR ME?
Timed Campaigns are suited best for those with an existing social media following or fan base; music artists, influencers, clothing brands, or anything in between. Due to the limited edition selling point and 50 unit minimum, having an engaged audience is key in running a successful campaign. This method is a great way for brands to drop exclusive merch for fans waiting to get their hands on it.
There is no upfront inventory investment but there is a 50 unit minimum order quantity so you'll want to be sure you can sell at least 50 units of your product if you plan on going this route.
WILL MY CUSTOMERS KNOW IT'S SHIPPING FROM CULTURE STUDIO?
Nope! We customize your packing slips with your branding so it looks like it's coming directly from you.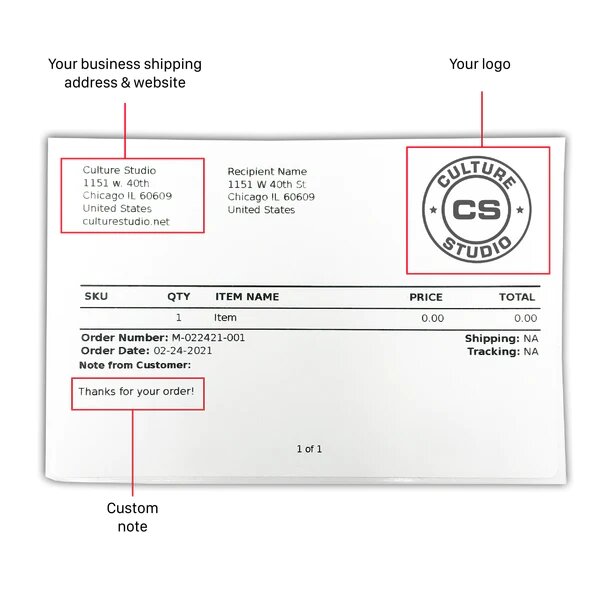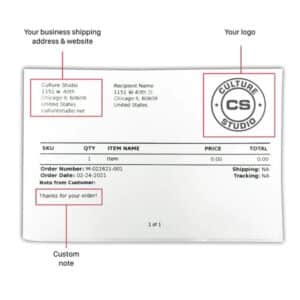 WHAT DO I PAY FOR?
1. The merch
Price of the merch itself (garments + decoration). This is charged when production begins.
2. Pick & pack
$1.50 pick & pack fee per unit. This is the service charge for us to individually assemble and pack each order.
3. Shipping
You are responsible for paying for the price of shipping to each individual customer. This is charged separately after all orders have shipped out.
Hot tip: mark up your shipping prices so it doesn't cut into your profits! 
GUIDELINES
1. E-Commerce Platform
You must host your store on Shopify in order to run a Timed Campaign. Shopify is most compatible with our shipping software that we use to integrate with your store and pull orders.
2. 3% Overage 
We will order 3% overage of each garment/color/size to account for any possible spoilage that may occur. Any remaining units will be shipped back to you.
3. Order Minimums
The minimum order quantity is 50 units. If you do not sell 50 units, you will be responsible for paying for remaining garments to reach minimum.
4. Customer Service & Store Management
Any customer inquiries on orders will be handled by the store owner. Since we are shipping with all of your branding, your customers will not know it's coming from us therefore you will need to be the point of contact — think of us as just making all the magic happen behind the scenes.
You are also responsible for designing the layout of your site, uploading product images, and adding descriptions — we just integrate your products into our backend but we are happy to help assist with any questions along the way.
5. International Orders 
We cannot fulfill international orders so please ensure that settings on your Shopify store comply with this.
6. Order Revisions
Have a customer that e-mails you requesting to change their medium tee to a large? No problem, just let us know within the sale period. Any changes communicated after the sale has ended will not be able to be accommodated.
7. Shipping Time
Since this is a Pre-Sale, it is very important to communicate to your customers that every item is made-to-order and production does not begin until AFTER the sale ends (customers can expect their order to arrive in about 2-3 weeks).
Feel free to copy and paste the below script to add to your Shopify product description or somewhere on your website:
"This is a pre-sale: all items are made-to-order and production does not begin until after the sale has ended. Please allow 2-3 weeks for your order to arrive."
8. Keep It Simple
Keep it to 1 product/1 design.
Not only does this streamline the production and packing process for your customers, but it also adds to the exclusivity which is the main highlight of Timed Campaigns — drop 1 limited edition item, build the hype, and onto the next one.