So you are new to running a Shopify merch store and probably wondering where to start.  You hopefully watched a few "How To" videos in Shopify and at least understand the general practices of creating an Ecom store.  Great, now we can focus on the product.  Let's go ahead and work on some definitions so the terminology makes sense through the curriculum.
BLANKS:
Garments or raw goods that are present in which you will then add decoration & finishing services such as a private label inside tag to make it your own.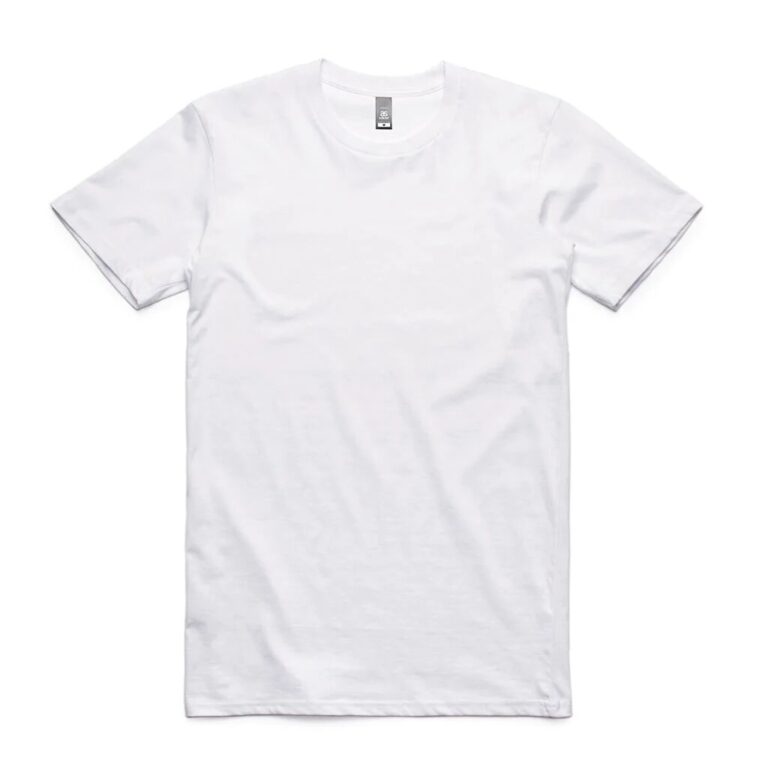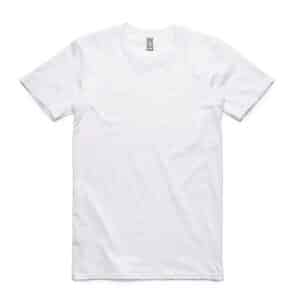 PRIVATE LABEL:
The process of purchasing a blank pre-sewn garment and then removing the Mill tag and replacing it with your own branded woven or printed inside tag.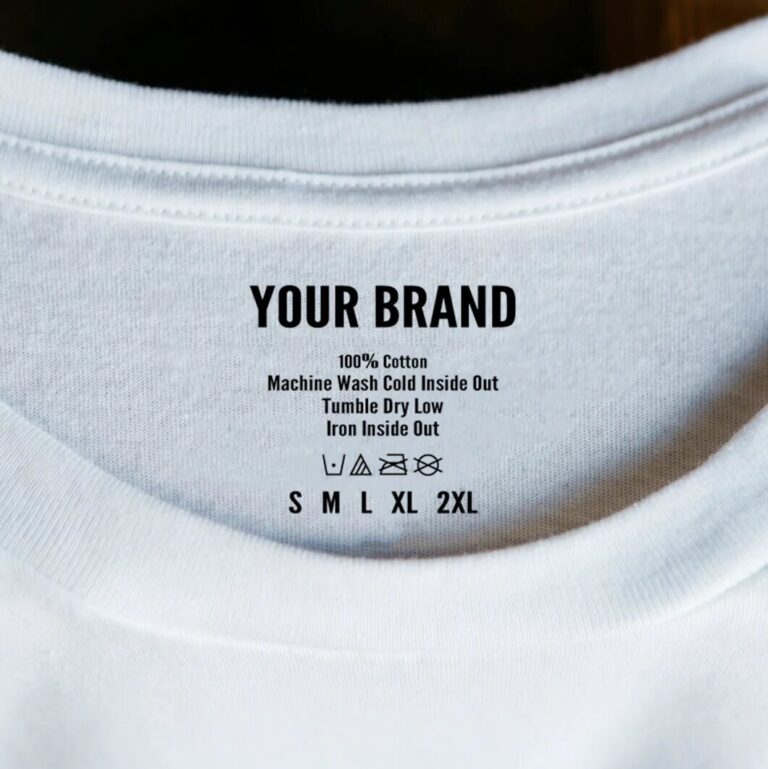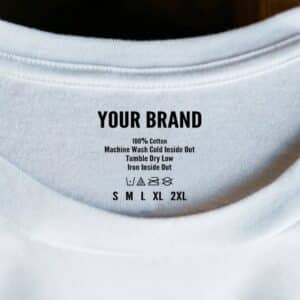 CUT & SEW:
Cut and sew is the process of creating a pattern, choosing a specific fabric, cutting the fabric in panels, and then sewing the garment together to create the piece.  This process is especially useful when requesting a very unique fit or if the end goal is to have an all-over print.
DESIGNING THE PRODUCTS
Step 1: Sourcing
Step 2: Decoration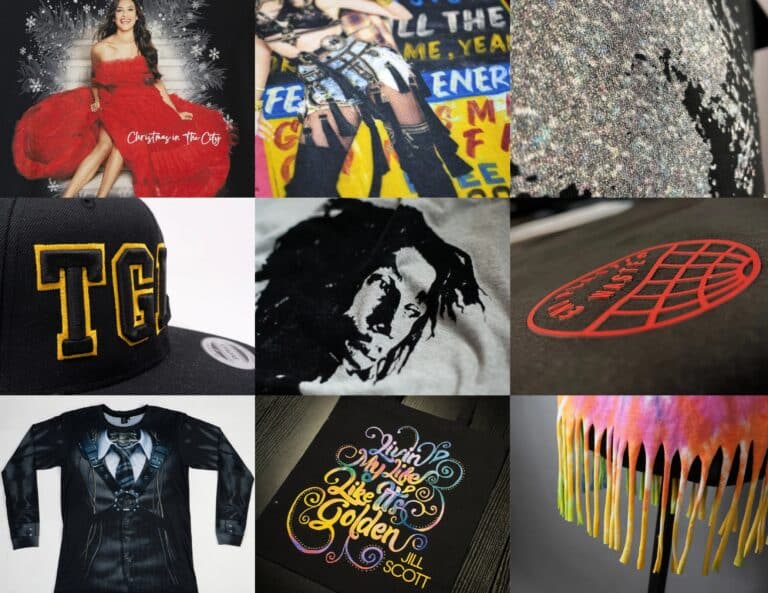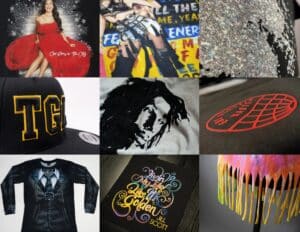 Screen printing
Embroidery
DTG
Sublimation
Digital squeegee
Specialty
Foil
Embroidery
Specialty embroidery
Sewing
Step 3: Finishing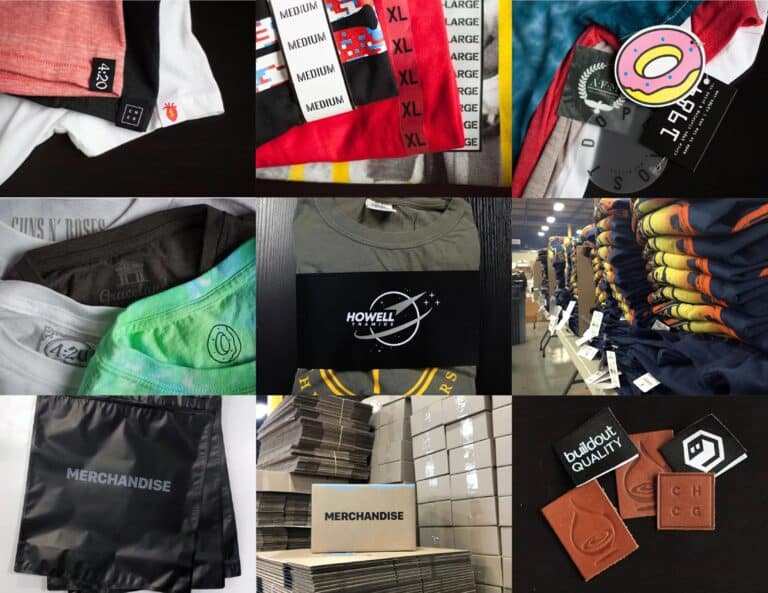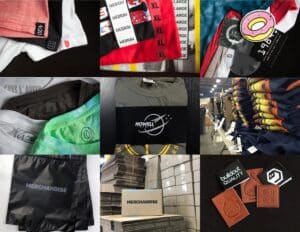 Woven labels
Private label
Hangtags
Stickers
Fold/Poly
SKU sticker
Check out our completely brandless Decoration Guide for in-depth descriptions of all decoration & finishing options.
COLLECTION


How do we create a well-rounded collection that speaks on-brand and presents products that our intended audience would buy? Assuming that you have some level of an audience for the brand — you may be a creator, designer, or any type of niche influencer.  If you have the following you can sell merch.
Now that we have a brand and understand our audience it's time to start creating.  Some important terminology before we jump in:
BULK MANUFACTURING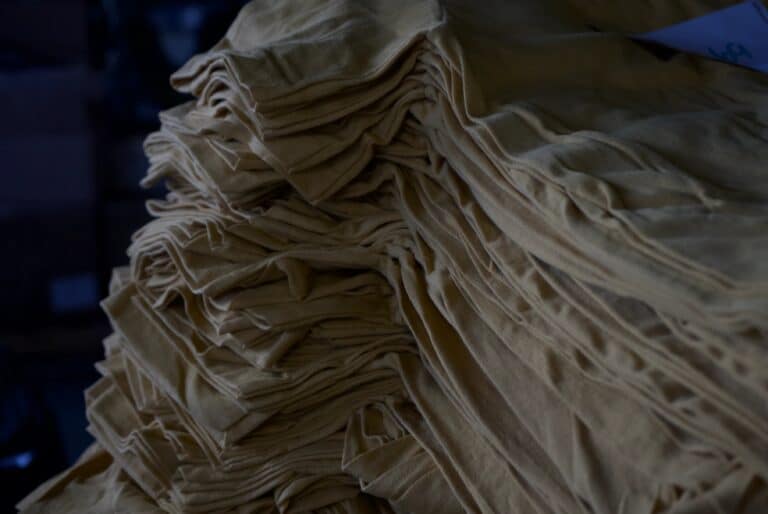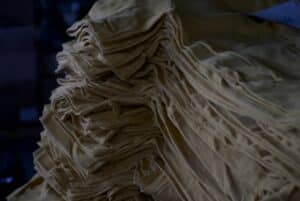 Making products at volume is the name of the game, so we will start with the top of the pyramid.  This means either Cut & Sew or sourcing raw materials and then decorating by bulk purchase order.  To define, bulk means over 12 units as a "sample order".  Then stepping up to 100, 1,0000, and then 10,000 units.  Anything over 10k and we may start to lose the leverage of bulk, as the price per unit usually doesn't go much lower at higher quantities.
Cut & Sew Custom garments import or domestic
Dyes and washes
Screen Print including specialty, digital squeegee, foils,
High-quality embroidery
Finishing items, fold, poly, hangtag, woven labels, size strip, any retail compliance
Branded merchandise that has minimum order requirements, including promotional products & hard goods.
Pro:
Once the order is received at the fulfillment house, tracking should be generated in 24 hours from the sale.
The customization is endless.
The cost will always be lower when buying in bulk, ultimately maximizing margin.
Bulk products are usually much higher quality and will give a far better perceived value.
Con:
Requires cash upfront — investment for inventory.
Pick and pack + storage can get pricey when your volume is low.
Takes a little more work on the front end but far less on the back end when inventory is in stock.
TIMED CAMPAIGNS
The Timed Campaign is a pre-sale model that allows you to sell merch without inventory investment. A digital mockup of the product is created then launched on an e-commerce store to collect orders. The sale is limited-time only (ex. 72 hours), in which you will push as much marketing as possible to your audience with the push to BUY NOW or this product will forever go away.
After 72 hours, the product comes off the site and a report is pulled for the total sold.  A PO for the entire size breakdown is entered to the manufacturer and the goal should be to ship the products in 4 days.  This means that the longest a customer has to wait to see tracking is a full week.  Not bad for a pre-sale model.
Timed Campaign Decoration Capabilities:
– Screen Print including specialty, digital squeegee, foils,
– High-quality embroidery
– Finishing items, Fold, poly, hangtag, woven labels, size strip, any retail compliance
Pro:
Bulk production opens up a ton more options that are usually higher end.
When it comes to screen printing, many people truly appreciate the art form of screen print and recognize a digitally printed product and perceive it as lower quality or souvenir.
Requires zero cash investment in inventory.
Maximizes margin when producing in bulk or on demand 1 off.
Increases buyer urgency/builds exclusivity with "limited-time only" marketing.
Can test out the market with new products without fear of losing money on unsold inventory.
Con:
The pre-sale model has on average a 1-week order – tracking delay due to the Timed Campaign.  Many customers are used to tracking or delivering the next day.
Requires a little more management on the back end to ensure the product has been taken down and PO is sent to the factory.
Pro Tip: Once the Timed Campaign has ended, throw in around 10% overages on the order and send them to inventory.  Personally reach out to every abandoned cart and let them know that we ordered over and you are able to actually get this item for a discount and fast!
ON-DEMAND
Products that are made on-demand mean that there is no inventory required.  A virtual product is designed and launched to your e-commerce store.  Once a product is purchased by one of your customers the order is routed to the on-demand factory.  That factory pulls the garment and prints, packs, and ships to the end-user.  An integration or API is always suggested for a seamless transfer of information between your Shopify store and the factory.
Cut & Sew sublimation garments, beach towels, accessories
Digital DTG prints
Hard goods mugs, key chains,
Low-quality embroidery as everything is a 1 off
Pro:
Zero inventory investment required.
Products will fill the store nicely and always be live and for sale.
The selection has been growing and many factories actually offer Cut & Sew on demand.
Hard goods, home goods, mugs, beach towels, and a million other items are available on-demand and will make the collection look full and professional.
Con:
Cost is usually the highest of the options.
Garments are limited.
Many colors of garments are not able to be digitally printed because of the pre-treatment stains.
Often it is lower quality because the factory only gets 1 shot to make the print look great.
Lower perceived value when an item is printed DTG.
Smaller print area.
Fewer options for customization.
Longer lead times pending capacity at the factory.
Pro tip: There are some Sublimation fabric blends that are really awesome and soft.  So good that your customer may not even know it's polyester.  
CHOOSING A PARTNER OR PARTNERS
R&D for capabilities can certainly be a drag.  I have personally spent the good part of my life studying factories and software to tie everything together.  For some positive news, we are in a very exciting time where technology is pushing the limits and marrying good ole fashion factories, and great things are coming out.  You want to find a partner that can handle 1 or all of the different workflows mentioned above.  Once there is some level of understanding of capabilities, always try and establish a direct connection or API with your factories.  This can be done via a Shopify App or custom integration.  All the good guys have them.  You don't want to be sending emailed purchase orders every time you can get an order from a client, you want all that to happen electronically. Most importantly, when that product ships the tracking is sent seamlessly back to Shopify and off to the end-user.  All while you sleep.
You also want to do some level of estimating for costs. Of course, the sky is the limit and every factory will tell you that, but a better question is, what is the customer willing to pay? Is a woven label necessary or will a screen-printed tag do if you can offer the item for $3.00 less to the fan?
CREATIVE PROCESS
LINE SHEET 
You now have Illustrator open with a line sheet template including your branding and other tech pack information that may be required later. It's time to conceptualize the brand.  Meet the Hybrid Model!
As mentioned in our intro, the goal is to launch a collection in our store that is well thought out from both a creative and financial perspective.  The collection should look full but remember, we don't want to throw money at this thing just yet.
Example Linesheet template for product development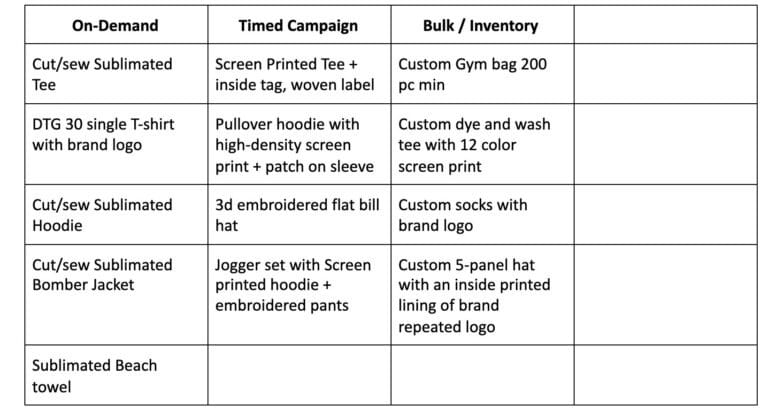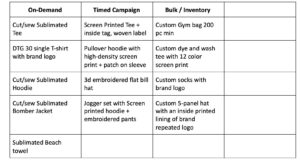 THE CREATIVE BRIEF
Now that we have some direction on product development, we can start the creative process.  Write up a creative brief that includes links to either the blank garment or Cut & Sew template.  Also, include a Decoration Guide so that the designer knows what is possible, especially when it comes to specialty decorations.
A good creative brief serves as a blueprint for your designer/team to bring the vision to life. It should include:
1. Project specifications (product/art file dimensions, garment styles/colors, fonts, logos, etc.)
2. Target audience/consumer
3. Visuals (does new artwork need to be created? Inspiration images?)
We use Basecamp, a project management platform great for team collaboration, ffor writing the creative brief but really anything can work.  A word doc, spreadsheet, or good ole piece of paper as long as there is a clear direction for the designer.
THE ARTWORK
If you are so lucky to possess the skill set of design then you are already ahead of the pack.  Let me serve as a validation that you do not need any type of formal education to learn how to do design. Simply download either Photoshop or Illustrator (if I had to pick 1 it would be illustrator), and head on over to Youtube.  Watch those tutorials until you can't watch anymore and see how everything just starts to flow. If taking up design is not in your wheelhouse, hire an amazing designer and let them loose using the creative brief as their map.
STRATEGY
We can now go into strategy.  You should have a beautiful line sheet pulled up on your screen or printed and pegged onto a corkboard.  There should be a nice variety of different products that tell a story but also are financially "Smart".  If the collection doesn't scream your brand image, turn right back around and get back to creative.  Try different products and ask yourself "would I buy this?"
Now the collection is complete and the line sheet looks like it came from Marc Jacob.  Begin launch.
TESTING THE MARKET
So at this point you've designed your e-commerce site and added some supporting pages. A great hero image, a strong home page, and a page to tell the brand's story at a minimum.  Be cautious to not over-design because the site can become complicated and hard to navigate, especially in this stage.  You can always add more pages.
But first, we need an event.  It could be an industry event, a birthday, a festival, a tour date, anything that causes buzz and ties a greater purpose to the release.  We want to pull from the Timed Campaign product bin in the line sheet to tailor the design towards this event.  This may cause you to have to go back to creative, but it is part of the process (we don't want to make the entire collection with the event in mind).
Once we have the event or moment-specific product we suggest 3 products or less.  Please do not think this is the official launch of the site and you want to have a full collection.  That is a rookie move and it will not only overwhelm your customer, but overload the factory.  This also gives a nice dating period between you and the factory of your choice.  You can watch a smaller batch run through and should be able to hit that 1 week from purchase to track.
Okay, things are getting exciting as the event is approaching.  Launch a couple products, specifically communicated to the world that these 2 items are a pre-launch for our new brand.  The product has been specially designed for X event and will only be available for purchase for 72 hours. Even add a ticker below the product to psychologically push the customer into letting FOMO make them hit the buy button.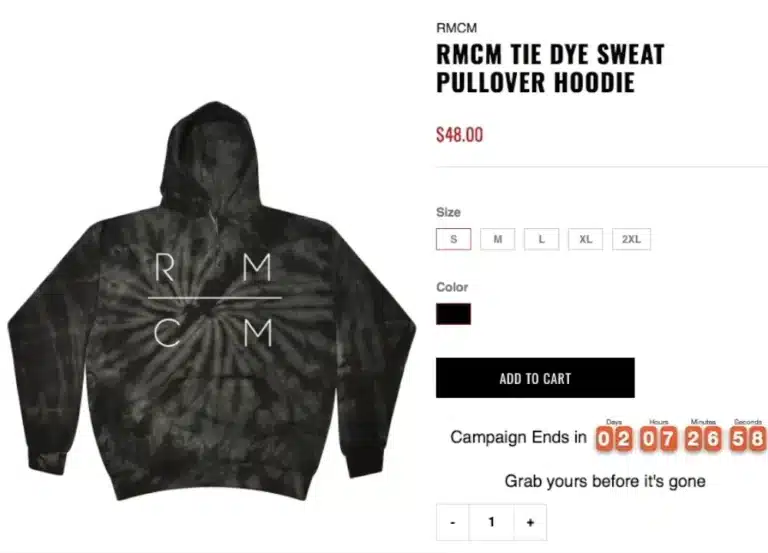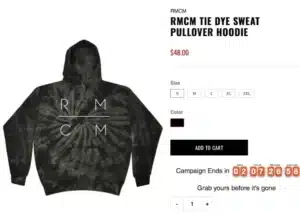 Now queue the hard work… Push the product-specific page link across every single channel you can find.  Put a nice budget against paid marketing that you are comfortable with and really try to hype this merch + event marriage.  To reiterate, try not to send people to your home page because this is not the official launch, it's an event-specific pre-sale.
NOW go collect orders and pull down the product after 72 hours.  Communicate with that factory along the way who also may be able to help with marketing.  Since you are already integrated they can be watching the sales as well and ensuring that the raw materials are available at your quantity.  It's crazy how often stock can be an issue. (Thanks, Covid!) Now it's in the factory's hands.  Source – Print – Pack – ship.  Now you've not only made some money to prepare for the launch, but you have built trust with your community and proved you are a real brand.
HYBRID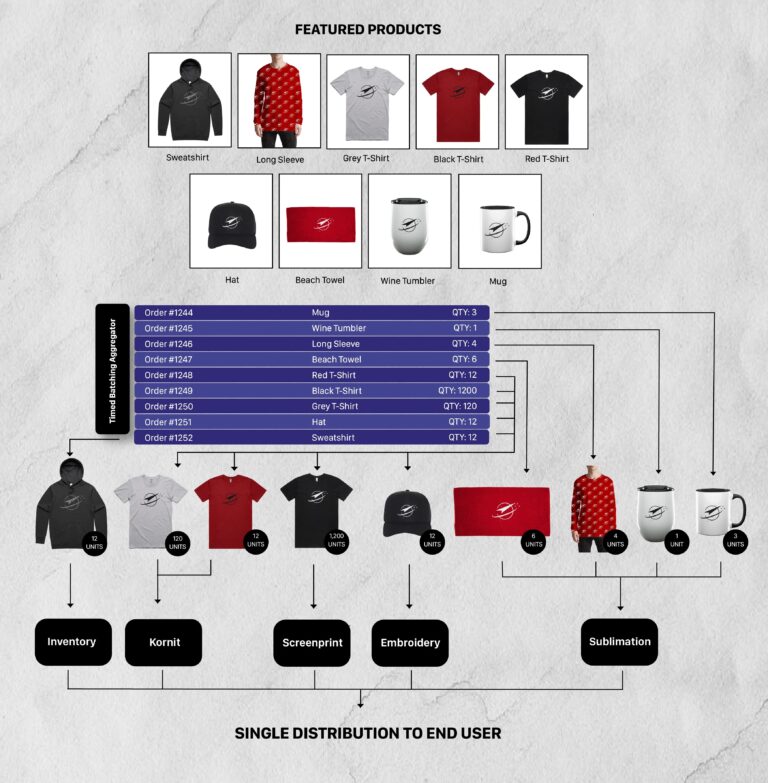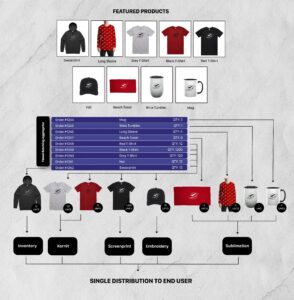 We are now ready to plan the official launch.  The work has been done already in the process of building the line sheet so that we have a full-looking store.  If you like, go ahead and replace the Timed Campaign items we used for the event-specific drop.  If the first drop was a success you proved through data that your custom likes that type of product/decoration.  Feel empowered to launch something similar now that you know it's a sure thing.
Before we are ready to launch we will need to place a production order for the bulk inventory products.  Remember these are items that either are completely custom and can't be done in a reasonable time or have higher MOQ's (minimum order quantity).  Very often the best-sellers are in this category so don't write it off but be thoughtful with how much money you are investing into inventory.  If you don't hit on these they can sit on your balance sheet forever.  A good rule of thumb is to invest the entire profit from the original campaign into inventory.  This way you are basically playing with the house's money.  Place the orders with the factories and try to get a gauge on timing.  Next, you will want to contract with a retail pick and pack partner or sometimes referred to as a 3PL (Third-Party Logistics).  Once the factory has completed the POs you will have them ship directly to the fulfillment house so they can pick/pack and ship to the end-user each time an order comes through.
Now that the inventory items are received by the fulfillment company key in the inventory amounts per style into Shopify's inventory section.  You should be sure you don't sell over this inventory because there may be a significant lead time to remake the products which will kill your satisfaction rating with the customer.
PREPARE TO FLY
Go ahead and create each virtual product in Shopify.  There should be many different types of products as well as production channels. The items we have in inventor will be great to give the client instant gratification, producing tracking the day or day after the sale.  Your store will be very Amazon-like and the customers will be thrilled.  Throw in free shipping and you're a junior Jeff Bezos.
The On-Demand products will flow directly from Shopify and into the On-Demand fulfillment house.  Once fully integrated, this is an amazing way to set it and forget it and just collect the profits.  Although usually those profits are far slimmer than the other 2 options — whenever you are making 1 of 1 pieces, the price of course is much higher per unit.  You are also limited on decoration capabilities such as specialty inks, imprint size, & finishing services.  But on the plus side, On-Demand allows your store to always look full and never be "sold out".  Since the process of making 1 unit isn't easy, production times can stack up.  If you have ever visited your On-Demand factory you will see that the garments are loaded and printed one at a time.  You can only load and print so many in a day, so depending on capacity levels there may be a longer delay in order-tracking.
Accompanying the On-Demand items in the store are the Timed Campaigns.  Again, these will have the same count down clock so the customer gets that urgency to purchase and feeling of exclusivity.  This process does take a little more management on both sides but the pros will outweigh the cons.  Especially when it comes to higher-end decoration and finishing.  The verbiage in a pre-sale also communicates to the client that there may be a little longer delay in completion and most customers understand that in this case.
Well, congrats you have yourself a modern Shopify e-commerce store, and you're on your way to making some real money.  Sharpening your skills at marketing will drive traffic to the site.  Analyzing the data should clearly tell you what garment types, decoration, or production methodology works best.  There will be some level of analysis that will need to be done thoughtfully.  If the inventory items do not sell through well that doesn't mean that inventory is not for you.  It very well may mean that the product choice is off.  Attempt to find the best seller and then place an inventory order for that piece getting the cost down to maximize margin and then add 1 specialty item on top (like an inside tag or woven hem label on the sleeve).  See how this item goes and then from there you can make better decisions.  If sales are slow it is certainly wise to run all On-Demand or Timed Campaigns until you can perfect the marketing and product development.
SHIPPING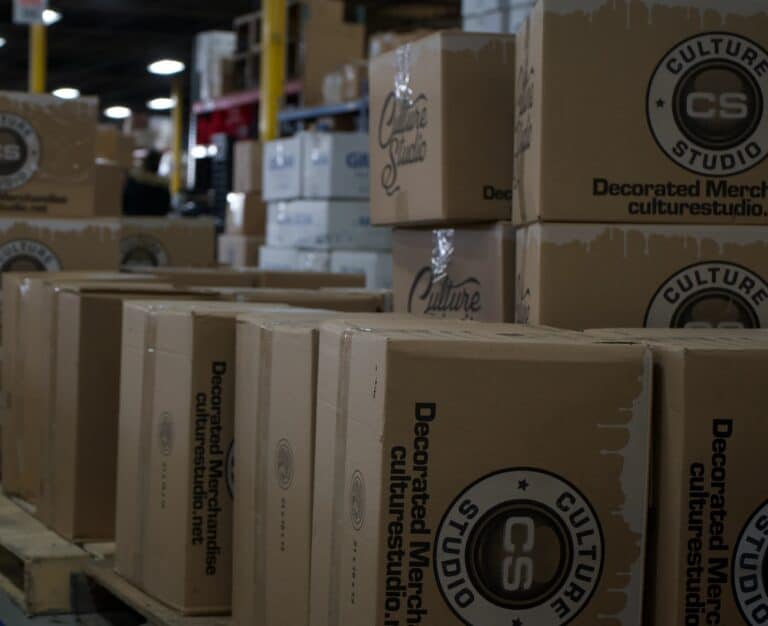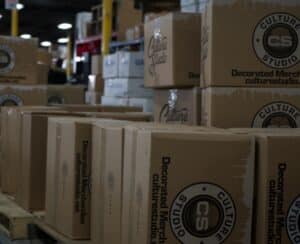 Now how does shipping work?  Well, it can be slightly complex but we will need to watch closely at the data and use the 80/20 rule.  Because we are mixing and matching product lines and reaping the benefits of a large selection shipping can get costly.  Especially if the products come from multiple vendors.  There are 2 ways to handle this:
Add in shipping to each product's cost as an average across the board so you are covered if the products don't ship together.  You can also advertise free shipping.
Create shipping profiles in the shipping module of Shopify where you can program where each product comes from and estimate shipping costs to the customer's destination.
– CEO Rich Santo