Promotional drinkware generates 1,400 Impressions during its lifetime, and 78% of consumers keep promotional drinkware in their kitchen cabinets.
Drinkware is a cost effective way to raise brand awareness and offer a branded product that people will love to use. Most people bring drinkware to work or the gym with them everyday, which means more eyes on your logo and free advertising!
Most people own water bottles, so kicking it up a notch and offering something unique will ensure that people will want to keep it around. Shaker Bottles are the perfect solution for fitness lovers to mix their protein or supplement drinks on-the-go. Offer as a welcome gift to new gym members, freebies at events, or send to remote employees.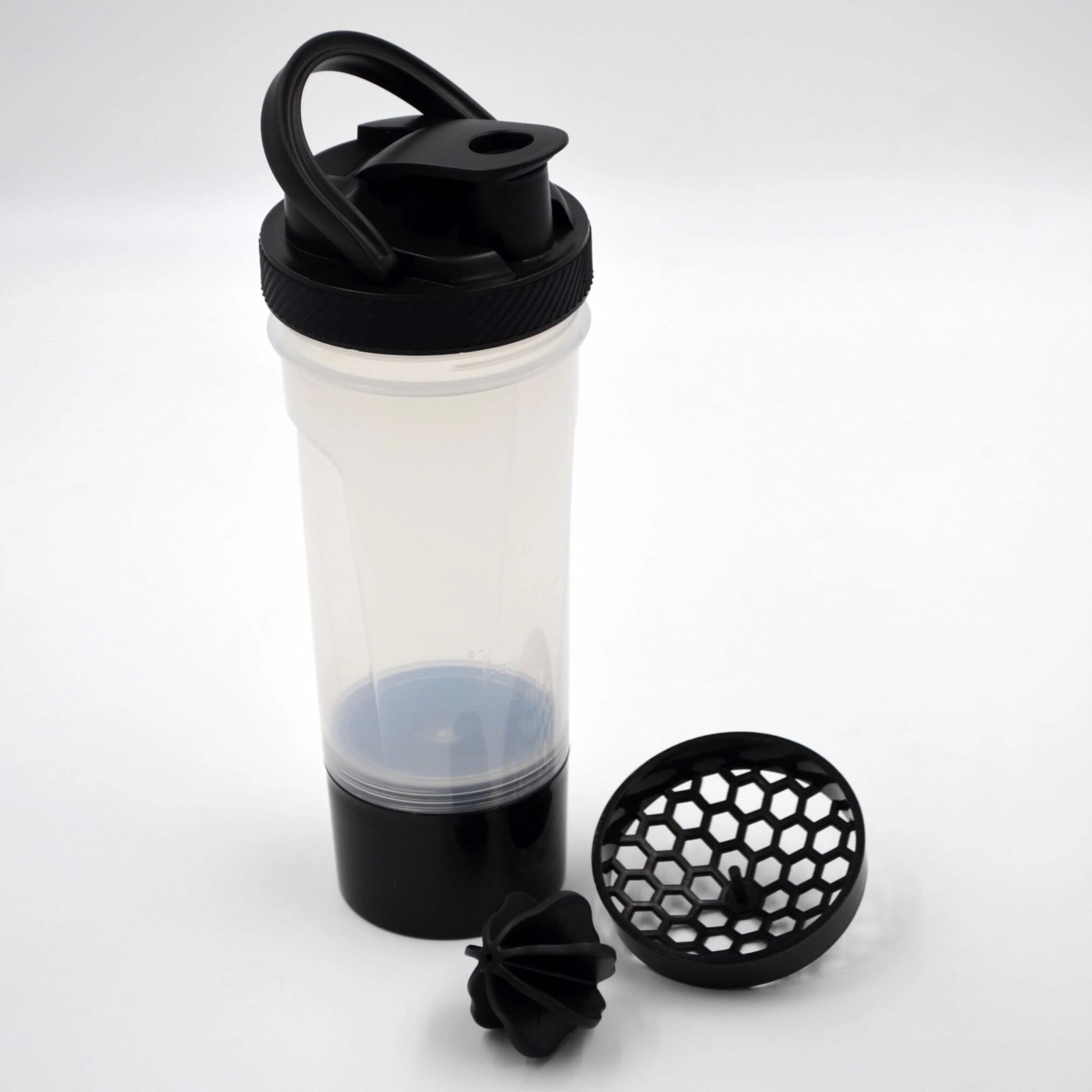 P328 24 oz Fitness Shaker Cup
Description
Make fitness and your brand promotion a priority with this workout cup! This 4.25″ x 10″ x 4″ polypropylene. This fitness shaker cup is the perfect promotional item for fitness lovers. It holds up to 24 oz. of liquid and comes with a stir ball as well as a colander strainer insert to ensure that your protein or supplement drink comes is smooth and clump-free. The cup is also designed with a bottom storage compartment for your supplements or post-workout snacks, an integrated carrying handle, and a drinking spot with a flip cover. Add your company's name, logo, emblem, or organizational message to the body of the bottle for an increase in brand exposure. Shake up your marketing efforts by adding this item to your next giveaway!
Additional Information
24 oz Liquid Capacity, Polypropylene Construction, 1/2 Cup Bottom Storage Compartment for Supplements, Shaker Ball Helps Mix Powder or Other Supplements, Top Colander Strainer, Ounce / ml Capacity Markings, Wide-Mouth Opening for Easy Cleaning, Drinking Spout with Flip Cover, Integrated Carry Handle, BPA Free
Size 4.25″ x 10″ x 4″, 24 oz.
Details Polypropylene fitness shaker cup; includes stir ball, colander strainer, and carrying handle.
Colors Available in Black, Blue, Lime
Minimum Order Quantity 96 units
Turnaround 10-12 production business days from art approval + Transit
Set Up Fee $62.50
Pricing
Includes 1C logo 1 position
96-239: $9.49
240-479: $8.99
480 – 1007: $8.49
1008+: $7.99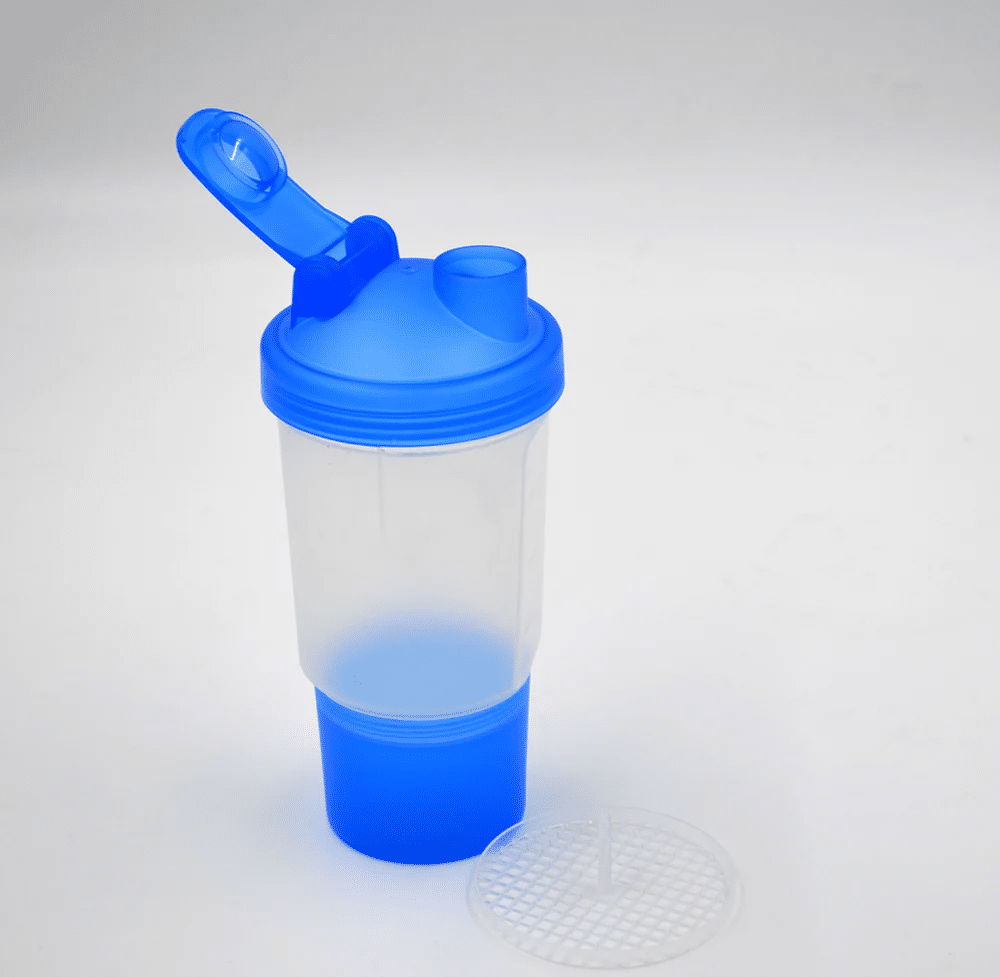 P329 16 oz Fitness Shaker Cup
Description
Shake up your marketing campaign with this handy item! This 3.75″ x 8″ x 3.75″ fitness shaker cup will help elevate your customers' fitness routine. The two-tone cup holds up to 16 oz. in the top compartment of the container and 1/2 of a cup of protein power or other supplement powders in the bottom compartment. It can also be used as storage for post-workout snacks. It also includes a blender screen that can be used as a fruit infuser or ice strainer. It's a multi-use bottle perfect for hikes, trips to the gym, or outdoor activities. Add your company's name, logo, emblem, or slogan to the bottle. Your brand will be in the palm of your customers' hands with this shaker cup!
Additional Information
Two Compartment Fitness Shaker Cup, 16 oz Liquid Capacity Top / 1/2 Cup Dry Capacity Bottom, Mix Your Favorite Protein Supplement Drinks, Blender Screen Helps Mix Powder or Other Add-Ins, Screen Also Works as a Fruit Infuser or Ice Strainer, oz & ml Measurements, Wide-Mouth Opening for Easy Cleaning, Flip Cap Stays Out of the Way, Fits Most Car Drink Holders, BPA Free
Minimum Order Quantity 96 units
Turnaround Time 10-15 business days production + transit
Size 3.75″ x 8″ x 3.75″, 16oz
Details Two-toned itness shaker cup; holds 16 oz. in top compartment and 1/2 cup in bottom with blender screen.
Colors Available in Black, Blue, Lime
Set Up Fee $62.50
Pricing
Includes 1C logo 1 position
96-239: $6.39
240-479: $5.89
480 – 1007: $5.39
1008+: $4.89