When starting to sell Print On Demand products, there's a few things to consider when selecting products.
1. KEEP IT SIMPLE
Don't overwhelm your customers with too many options. After testing out the market you can always expand your product line or style options that are in demand for your audience.
2. SELECT PRODUCTS THAT WILL SELL YEAR ROUND
The beauty of Print On Demand is that there is no tracking inventory or upfront investment, therefore you can keep the products listed 24/7 and make passive income. Keeping a main selection of products that are suitable for year round sales is a great way to keep consistent sales rolling in, and you can always add limited edition seasonal items as you wish.
T-Shirts
Tees are the perfect garment for all seasons. Test out 1 or 2 shirt designs to start and stick with basic colors that are most likely to sell, like black and white.
Home Goods
The home goods category is a great way to offer fun products outside of your normal offering. Drinkware like mugs or wine tumblers are another great year round product that people will love to buy for themselves or gift to others.
Accessories
Hats, tote bags, and phone cases are options that all ages will love.
3. STAY ON TREND
Keep up with pop culture moments to capitalize on for your merch designs, as well as keeping an eye on fashion trends to add relevant products to your line. For example: with festivals coming back, bucket hats and fanny packs are definitely a trend to hop on right now!
Another benefit of Print On Demand is that since you're never risking losing money on inventory investment, you can experiment with new products.
WHEN TO RUN A TIMED CAMPAIGN VS. PRINT ON DEMAND?
Both are great options that allow you to maximize your profits by allowing you to sell without inventory investment. The main difference that comes in to play is that a Timed Campaign is limited time only, whereas Print On Demand products are available 24/7.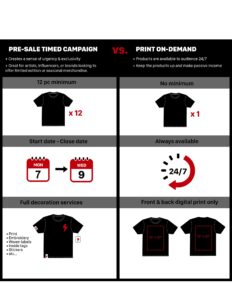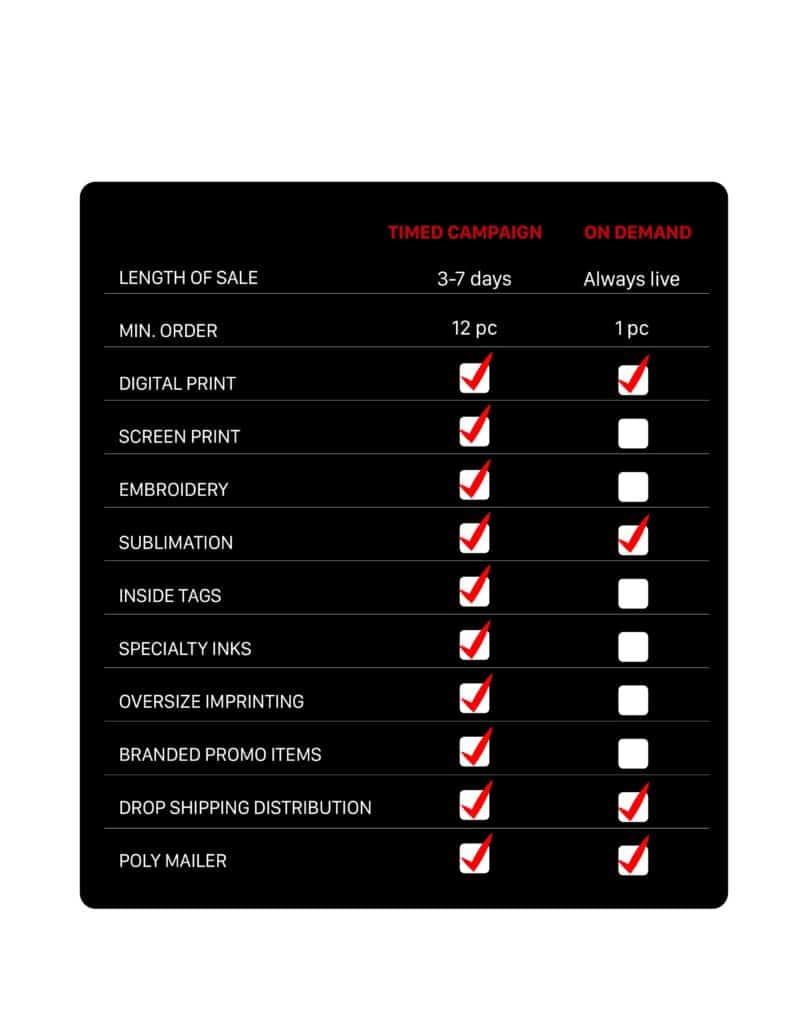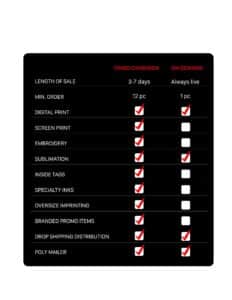 CULTURE STUDIO: PRINT ON DEMAND APP
We've created our own Print On Demand Shopify App to make it easy to connect to your online store and begin selling.
How does it work?
1. Install the Culture Studio: Print On Demand app to your Shopify store and request access.
2. Someone from the CS sales team will approve the account and begin onboarding. Together we will create a product line and publish the products on your Shopify app.
3. Once a customer purchases, the order is synced to our system that groups like-orders together and routes them to the proper machinery.
4. CS fulfills the order and individually ships it out to your customer.
Interested in seeing if Print On Demand is right for your brand?
Connect with an Account Executive to start: sales@culturestudio.net